Yellow Letters For Real Estate Investors
In this post, I'm going to talk about what has always been an important part of my real estate investing toolkit. The yellow letter. I personally started using the letter sometime in 2007. I know it has been around longer than that, but in 2007, it wasn't as widely known and was still getting unheard-of response rates in the real estate world when done properly.

What Is A Yellow Letter

A yellow letter is simply a letter to a homeowner that is written on a yellow legal pad style paper with (normally) thick red ink. Most of the time, the message is simple and straightforward like this example.

I know that there have been tons of iterations of the yellow letter circulated by investors and promulgated by the gurus however in my extensive mailing experience and over the past 13 years or so of mailing these things, the simpler the better. There are of course exceptions depending on your targeted list and I have a successful version that I use for code violations that is a little more intricate. (Thanks Dan Kennedy!)
Yellow Letters and How To Execute
There are different ways to execute the yellow letter and depending on how you execute will likely affect your success rate. Keep your copy
Method 1. Handwritten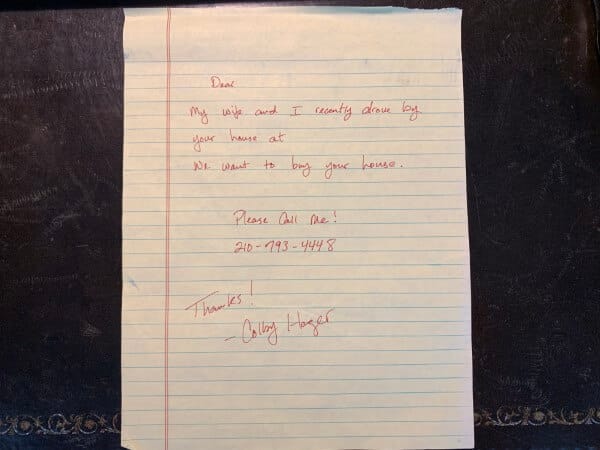 No matter what anyone says, nothing will outperform a straight-up handwritten yellow letter and handwritten envelope. This method will be for those of you on a limited budget, a highly sifted list, have extra time in the day, or have the budget to pay a person to do this for you. This method is basically grabbing a red pen, legal pad, and your list and getting to work writing these letters by hand. It's time-consuming, will give your hand a cramp if you aren't used to writing a lot, and can be tedious but, like I mentioned these will absolutely yield the best results. The neatness of your handwriting doesn't matter as much as you think. Keep it legible but don't worry about making it perfect and neat.
Method 2. Outsource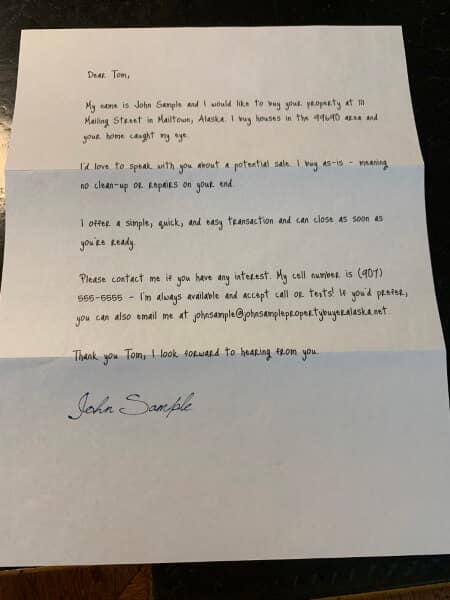 Another method is to pay for you letters to be printed. I have had this done through several vendors, to varying lists, at different intervals, and multiple touchpoints. I have had dismal results all the way around with this method. I know the marketing generated by these providers suggests otherwise, however, I can only speak to my experience A/B testing these letters. They outperform postcards but not by much and certainly not enough to justify their significant cost. I personally would recommend spending a little extra on a response envelope discussed in another post rather than having these printed and mailed.
Method 3. Home Printing
The last method is a personally designed handwriting font created by you online and merged into your word document. Print these on a quality printer with the proper paper stock and you are good to go. See an example of mine below. These can turn out near perfect if you take your time crafting everything just right. You can use the same font to print your envelopes as well. Mail merge everything with your mailing list spreadsheet to become your own printing house with you as the QC manager at the same time. I like these for larger mailing lists of over 100 but less than 1000 per batch. I use a letter folder to help me out here.

How To Make Yellow Letters Work For You
Now you have the basic idea of what yellow letters are for real estate investors. Find out what works best for you in your specific market by tracking your results, use AB testing and track and tweak and test and track and tweak and…well you get the point. I've gotten some juicy deals using yellow letters. Remember, keep your letters simple. Don't overload the recipient. The whole point of this method is that some random person took the time to write the homeowner a quick, personal note. Ask them to call you even if the house isn't for sale. I like to talk to sellers to find out if they are selling in the future or if the timing isn't right. You get the idea…get them on the phone.
The Secret Most Important Element

The letter is really step-2 to getting a phone call from a motivated seller. They have to be compelled to open the envelope before they see our carefully crafted letter. For step one (and probably the more important part of the equation) head over to our post about yellow letter envelopes!

Hit us up and let us know what works for you! We love real estate success stories! Share yours with us and we will highlight you in one of our featured posts! Find us on Facebook as well.