How To Find Contractors For Your First Flip House
Finding contractors for your first flip house is a key ingredient to success. When it comes to flipping a house, you have to start with a great deal on a flip house. You need to know your numbers, due your due diligence and have your exit strategy in place along with a plan b exit strategy. Now you need to find contractors to do the work. So how do you start the process of finding the right contractors? That is what we are going to talk about in today's post.
My First Flip House Just Closed! Now What?

Now that you've done all the front end work, you've found your deal and the purchase is complete. Time to hire those contractors. Well if you are like how I was when I bought my first flip, you don't have a long list of contractors that you can call on. You aren't sure who can do what and who is good at what and who you can trust to work on your flip. Don't worry. I've got you.

First, you need to identify what type of contractors you need. I'm going to start off by assuming you aren't going to hire a GC to run your whole job. You're here because you are a hustler and you are going to run your own job. (You don't have to do this full time to run your own flip)

I'm going to give you all the secrets I use to find the best contractors who are investor-friendly. Sure any contractor your neighbor recommended might work. I guess you can hop online and try and find a contractor (talk about overpaying). But unless you follow these steps, you are going to be fighting an uphill battle.

Finding Contractors For Flipping Houses At Home Depot
This method requires you to wake up early. That's right you have to wake up early. Get down to Home Depot around 6 am. You're going to want to hang out near the pro desk or outside in the pro parking area. You are waiting for specific trades to either start their purchase or load their trucks. These are guys who are actually doing the work. They are getting the materials and going to the job. These guys aren't the fancy GC's who send the workers to the job and sit back and make money. (That's our job). The reason you want to get there early is that you want to meet the guys who get to work on time. If you show up at 9 looking for contractors, you are going to find the ones who like to sleep in and have no problem showing up for work at 10 am. Those aren't the contractors I want to hire.
So get out there and talk to these guys. Don't be shy. They are glad to give you their number or business card. Sometimes, they'll invite you to their job to see their work. If they do, great! Go check it out. Call these guys and have them come out and give you a bid as I recommend in my post about estimating repairs. Keep at it for all the trades. Electrician, plumbing, mechanical, framing, trim carpenter. The same thing applies for painters but go to Sherwin Williams instead and follow the same steps.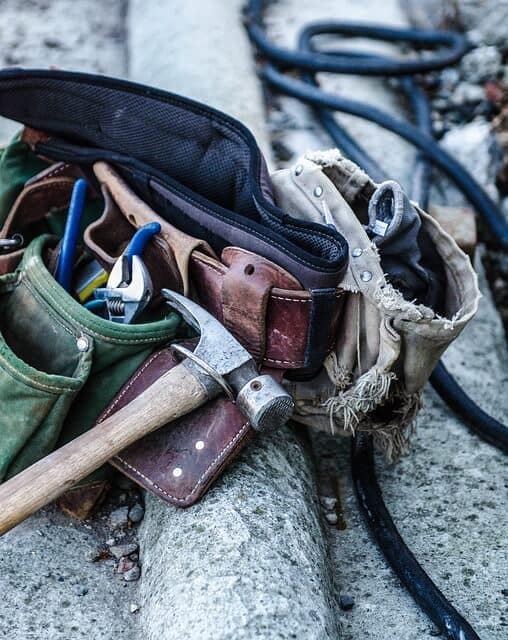 How To Find Contractors At Active flips
This is the best way to get investor-friendly contractors because they are working for investors. When was the last time you were driving for dollars or just driving and you saw an active flip? Well, now you see more than that. Now you see your future contractors. This is a great way to see the quality of work, learn what the contractor specializes in and get their contact information. If the property owner is on sight, guess what? Add to your buyers list! Win-win! Don't feel like driving around looking for flips? Look at the recently sold junkers from the MLS and go straight to those. On a wholesaler's email blast? Go to those houses after a couple of weeks once the work has likely started. Other flippers do this to me at my jobs all the time. This isn't something radical. It happens so don't be afraid to pop into someone else's flip. Many times, the contractors are willing to leave their current job to bid your job right then and there. Happy hunting!

Can You Find Contractors For Your Flip Houses At New construction Job Sites

I've used this technique successfully many times. I was looking for a specific trade. I couldn't get any referrals and needed a job done. With nowhere to turn I'll head into a new development and cruise around. Whatever trade you are looking for, you can spot them. They drive certain trucks, have certain tools, work on houses in certain stages. You aren't looking for the guys in charge here. In this case, you are wanting the guys actually doing the work. Go talk to them. Ask if they take side jobs. Get phone numbers and get bids. I have found some great subs with this method. What I like about this method is that someone has already done the vetting process for you.

Finding The Right Contractors For Your Flip Houses Is Possible
Finding the right contractors for your flip houses can be intimidating. Knowing if you have found the right contractor at the right price is tough in the beginning. You will get better at it and the more contractors you know, your list of subs will grow. You will be able to get recommendations from one trade about another trade. They all know who they prefer to work with. Trust me, it becomes second nature if you keep at it. I'm always on the lookout for different contractors. A few final thoughts when it comes to finding great contractors for your flip houses. Always get referrals from other investors the contractor has worked for and call them. Walk a current job site with the contractor to see the quality of work. Never give a deposit to a contractor. You should be supplying the materials so there is no need for money upfront(there are a few exceptions to this rule, let me know if you have questions). Now get out there and start hunting down great contractors for your flip houses!