Driving For Dollars For Real Estate Investors

Driving for dollars for real estate investors is a technique for finding motivated sellers that has been around for some time. I was driving for dollars looking for houses to buy before driving for dollars was even a term I had heard of. Basically driving for dollars as a real estate investor is hopping in your car and drive up and down streets in a residential area looking for houses that you might be able to purchase at a discount. We are going to go over driving for dollars as a real estate investor so that you will have a full understanding of how to use this technique to buy houses.
Does Driving For Dollars Still Work To Find Great Deals?
I get this question a lot. Am I wasting my time? I'm reading online and they say this is a waste of time. They have systems for finding vacant houses. Yada yada yada. I always recommend considering the source. Do they have something to sell? Are they trying to get you to subscribe to a service? Are they affiliated with a service or do they get a kickback if you sign up for something? If not, are they actively buying and flipping houses? Do they specialize in finding off-market deals? Have they done this full time for years? Why are they invested in making sure you don't drive for dollars?
I believe driving for dollars does work. I know it does because I've done it. I've gotten deals from doing it. Honestly, if we apply some common sense, we can understand why it still remains an effective method for sourcing discounted real estate. There are also some ancillary benefits to driving for dollars that no "system" can provide. I will discuss those as well.
The Best Way To Drive For Dollars

When you are first starting your journey as an up and coming real estate investor, you may not be sure where you should actually start driving when driving for dollars. I can't tell you exactly where you should start unless you happen to be investing in San Antonio (if so, hit me up!). So let's go over some guidelines that will get you pointed in the right direction. First, you want to drive for dollars in areas that you want to flip. Most flippers are working in up and coming neighborhoods or areas that are experiencing some revitalization.
There should be a good mix of flipped houses or nicer houses and some houses with some obvious deferred maintenance. For my market, I'm looking for areas that have top-end values of under $200k for sure and more likely top-end values of $150k. Your market may be more or less. You should really be driving in lower-end working-class neighborhoods. Let me explain why. If you are driving in higher priced newer areas, you aren't going to come across many houses that meet the criteria we laid out above. You are going to be wasting your time. The last thing you want is to get in an area, drive for an hour, and wind up with only one address written down.
Many of these homeowners will be lower-income, have inherited the house with much-deferred maintenance, could be facing foreclosure, and the list goes on.
Conversely, you don't want to be in an area that is so rough that there is an abundance of boarded up vacant houses. This would indicate an area that might be great for experienced landlords but not quite so good for flipping. I personally like to get into a residential area that has streets in a grid layout so I can easily keep track of the streets I have been on. The bigger the neighborhood the less time you spend driving around trying to find streets with houses. Google Maps can really help you plot your area.
What exactly are you looking for when you drive for dollars?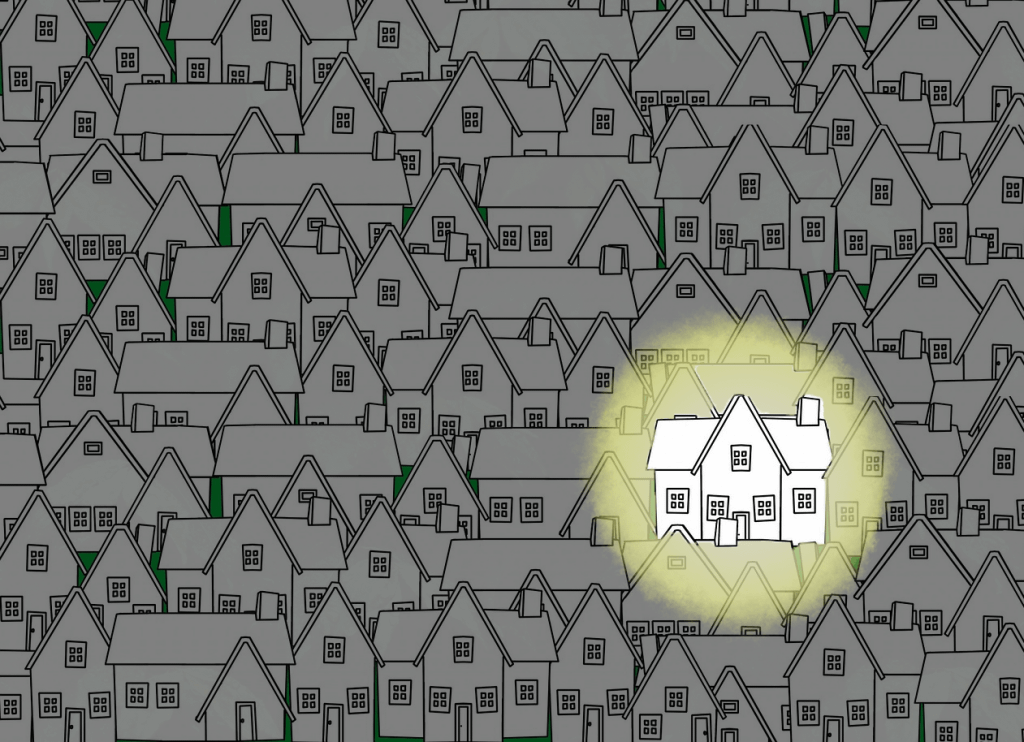 When you are driving for dollars, you are looking for houses that have certain traits and characteristics. We are looking for factors that may indicate a situation exists that has transformed a homeowner into a motivated seller. These factors often include one or some of the following:
Flyers attached to doors
Overgrown grass and bushes
Furniture and belongings in the yard or by the curb
Driveways that have grass growing in them indicating no one is driving in the driveway
Newspapers or phone books piled on the porch
Boarded up windows or doors
Broken windows
Any other sign that may indicate a vacant house
How To Contact The Homeowner After Driving For Dollars
There are many ways to get this done. The first step is to get the homeowner's information. In my area, we commonly use the tax appraisal district. If you are a licensed realtor, most realtor boards have a property lookup feature. The information is public so you just need to find the common way to do it in your area.
Once you have the owner's information, you need to reach out to them. This is commonly done by writing a letter. Any letter will suffice however yellow letters have always worked best for me. I wouldn't use a postcard here. Alternatively, you can skip-trace the owner to try and get a phone number and call them. This works for me and can be a good method. Unless you have a good service, it could get pricey although the cost of skip tracing continues to get lower and more competitive. However you decide to get in touch with the owner, consistent follow up is necessary for success. Most of the time, you will need to make several attempts at contact.
Driving For Dollars Concluded
Driving for dollars can still be a profitable endeavor for real estate investors when the proper steps are followed and the necessary research has been conducted prior to hopping behind the wheel. Driving for dollars success rates will be tied to many factors including the method used to contact homeowners as well as the target area among many factors. Despite the fact that driving for dollars has earned a bad rap online, the method is tried and true. Ask yourself why those online are trying to dissuade you from getting out there and pounding the pavement. Questions? Comment below or contact me directly!